Price

RM199.00

RM299.00

Product SKU
SSD-64GB-TS64GMSA370
Brand
Transcend
Size (L x W x H)
11.5 cm x 7.8 cm x 1.5 cm
Availability
1
Quantity
Description
Highlight
MLC flash-based performance and reliability

Supports Intel® Smart Response Technology (ISRT)

DDR3 DRAM cache

Maximizes notebook battery life when not in use thanks to full support of SATA Device Sleep Mode (DevSleep)

S.M.A.R.T., TRIM and NCQ support to maintain a healthy, efficient SSD

Built-in wear-leveling algorithm ensures highly reliable of data transfer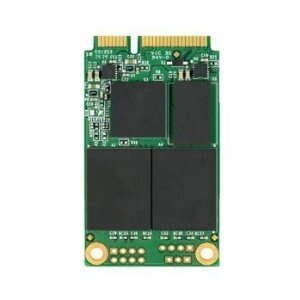 Transcend SATA III 6Gb/s MSA370 mSATA SSD
TS64GMSA370
Transcend's MSA370 SATA III 6Gb/s mSATA SSD combines incredibly fast transfer speeds, ultra compact size, light weight, shock and vibration resistance, and DevSleep support to ensure your notebook is faster, lighter, more reliable, and longer lasting.
SATA III 6Gb/s interface & high speed DDR3 DRAM cache

Supports DevSleep ultra low power state and Intel Smart Response Technology

Space-saving mSATA form factor

Supports S.M.A.R.T., TRIM & NCQ commands

SATA 6Gbps/3Gbps/1.5Gbps connection options
Incredible Ultra High Speeds

Transcend's MSA370 features the next-generation SATA III 6Gb/s interface, DDR3 DRAM cache, and a powerful controller. As a result, upgrading your mobile computing device to a Transcend MSA370 makes it more responsive, boot up faster, and launch applications in a fraction of the time it takes your current standard hard drive.

Superior Upgrade for Mobile Devices

Transcend's MSA370 mSATA SSD is many times smaller than a standard 2.5 inch SSD, measuring just 20 x 11.8 x 1.6 inches. Therefore, it is perfectly suited to meet the strict size limitations and high performance needs of your ultra-thin and light mobile devices that require an SSD. Applications include but are not limited to: tablets, notebooks, Ultrabooks, eBook readers, mini PCs, and slim servers.

Supports DevSleep Mode

Standby mode saves time waiting for your notebook to boot back up while on the move – but it comes at the expense of battery life. The MSA370 maximizes notebook battery life when not in use thanks to full support of SATA Device Sleep Mode (DevSleep). DevSleep allows compatible notebooks to completely shut down the SATA interface to conserve power and yet still offers the same instant-on capabilities.

Sustained Reliability

The MSA370 is built using high-quality synchronous multi-level cell (MLC) NAND Flash memory to offer continued reliable performance, cool and quiet operation, and incredible resistance to shock and vibration. Moreover, built-in ECC and advanced wear-leveling technology keep your MSA370 healthy and efficient and ensure peak performance over a long period of time.
Intel Smart Response Technology
The MSA370 mSATA SSD supports Intel Smart Response Technology (ISRT), which allows you to configure your computer system with an SSD used as cache memory between the hard disk drive and system memory. ISRT works by monitoring which programs and files you access most frequently and stores them on the SSD. This provides the advantage of having a hard disk drive for maximum storage capacity while delivering an SSD-like overall.
Reviews (0)
view all
back
What's in the box
1 x TRANSCEND 64GB MSA370 mSATA SSD