ASUS ROG GLADIUS OPTICAL GAMING MOUSE + FREE!! ASUS STRIX GLIDE CONTROL GAMING MOUSE PAD - BLACK
Price

RM399.00

Product SKU
MOU-ASUS-GLADIUS-FREEPAD
Brand
Asus
Size (L x W x H)
14 cm x 7.5 cm x 22 cm
Availability
2 - 3 Days
Shipping Fee
Description
Highlight
World's first mouse with 2000Hz USB polling rate support

Ergonomically-designed for all right-handed grip types – ideal for FPS games

Exclusive socket design for easy switch upgrades; includes 2 additional Japanese-made Omron switches

Separate left and right buttons; with 2 specially-engineered, programmable 'slide-to-press' buttons

Detachable cable and ROG travel pouch for storage and transport

Built-in flash memory to save your favorite profile

Exclusive ROG Armoury interface where you can program buttons, performance settings, lighting effects, and surface calibration
What is Gladius
ROG Gladius is an optical wired gaming mouse engineered with perfect right-hand ergonomics for first-person shooter (FPS) mastery! Smooth-touch materials stay cool in your hand and high-quality Mayan-patterned rubber secures your grip. ROG Gladius is the world's first mouse with 2000Hz USB polling rate support. With exclusive switch socket design for customizable click resistance, two-level DPI switch, 'slide-to-press' side switches and a 6400dpi optical sensor that tracks up to 200 inches per second, and 50g acceleration, the battlefield is at your mercy. Detach the cable for carrying around — lock and load!
SEPARATE LEFT & RIGHT BUTTONS

WORLD'S FIRST MOUSE WITH 2000Hz USB POLLING RATE

EPIC ERGONOMIC DESIGN

EASY-SWAP SWITCH SOCKETS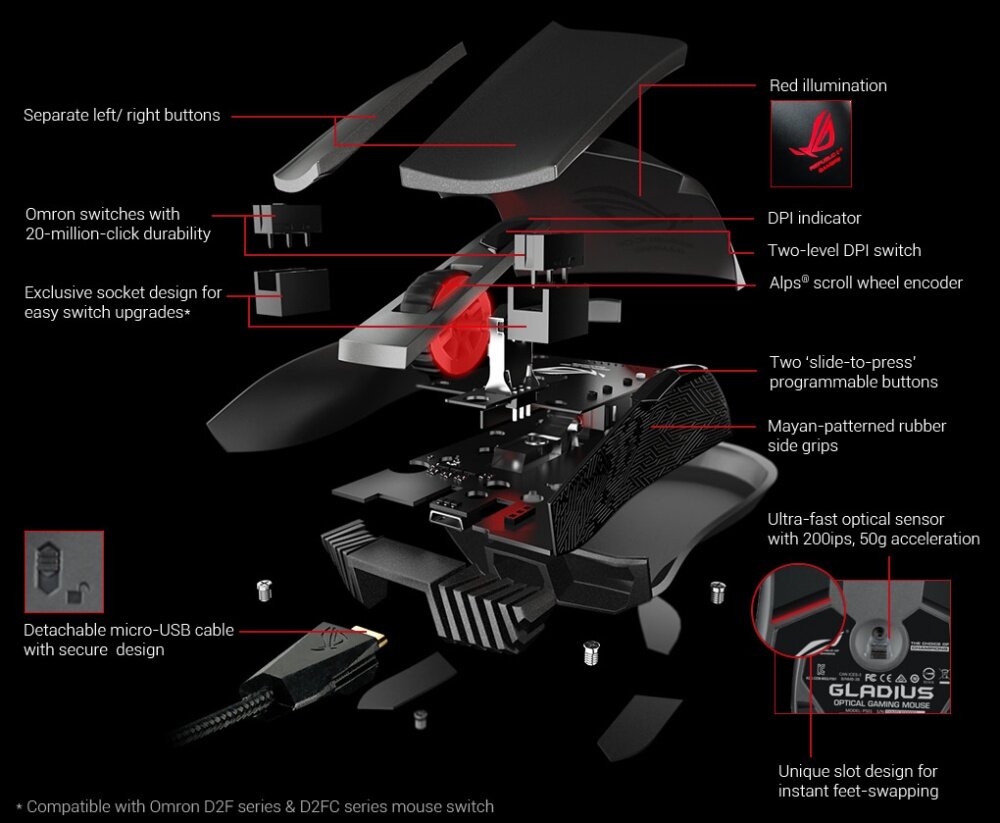 Ergonomic design for all grip types
Right-handed comfort crafted by FPS masters!
World top pro gamers involved in design stage, back and forth to ensure the best ergonomics! The fine-tuned curves make Gladius the perfect fit for all grip-types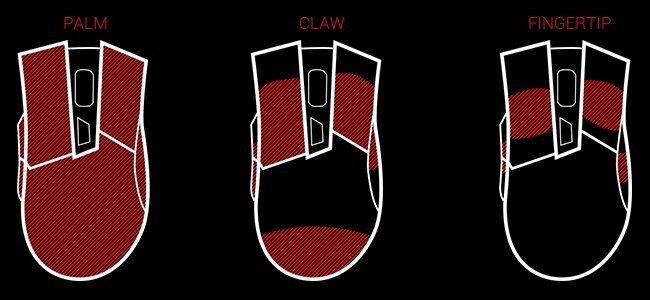 Every detail matters
Maximum comfort for even the longest battles
2 'slide-to-press' programmable thumb buttons with a specially engineered shape that lets you slide your thumb to trigger a press

6 programmable buttons

The DPI clutch enables instant switching between two sensitivity levels:
- Standard speed for everyday gaming
- Extra-low speed for better aiming and accurate sniping

Solid left and right buttons, purposely separated from the mouse body for exceptional responsiveness

Specially-designed micro-USB cable prevents the cable dragging on desk

Scroll wheel with an Alps® encoder for a positive stepped action

Special steel-grey coating to minimize sweat and stickiness

Two-sided Mayan-patterned rubber panels ensure the perfect grip
Reviews (0)
view all
back
What's in the box
1 x ASUS ROG GLADIUS OPTICAL GAMING MOUSE
1 x ASUS STRIX GLIDE CONTROL GAMING MOUSE PAD(Black)