Price

RM24.90

RM39.90

Product SKU
ADA-AZTECH-WL572USB
Brand
Aztech
Size (L x W x H)
16 cm x 11 cm x 2 cm
Availability
Description
Highlight
Complies with IEEE 802.11n and IEEE 802.11g/b standards for 2.4GHz Wireless WAN
Up to 300Mbps high-speed transmission rate.
Supports 64/128 bit WEP,WPA/WPA2,WPA-PSK/WPA2-PSK (TKIP/AES) encryption.
Supports infrastructure and Ad-Hoc
Supports WPS (Wi-Fi Protected Setup) with one-click.
Supports Windows XP 32/64, Vista 32/64, Windows 7 32/64, Windows 8, Linux, Mac.
Low power consumption • User friendly and Easy to install
Empower your networking on your PC with an extra degree of flexibility and connectivity for both your business and personal use. With the use of Aztech USB Wireless Adapter, its an inexpensive and convenient way to enjoy instant WiFi Dual Band AC internet connection.
Key Features:
Wireless-N data transfer rate up to 300Mbps
Low Power Consumption
Wi-Fi Protected Setup (WPS)
WL572USB is a wireless USB Adapter which complies with the most advanced IEEE 802.11n standard and can deliver up to 150Mbps stable wireless data rate. It supports WPS (Wi-Fi Protected Setup) to help you create wireless secure connection quickly to prevent outside intrusion and to protect your personal information from being exposed. It can be used to share wireless network with others as a wireless AP by the mode of soft AP and provide quite stable wireless signal. Generally, it is the perfect solution for small offices and home needs.
Highlights
Complies with 11N standard, up to 150Mbps high-speed transmission rate
64/128-bit WEP encryption and WPA/WPA2, WPA-PSK/WPA2-PSK (TKIP/AES) security
Supports WPS (Wi-Fi Protected Setup) with one-click
Features
Complies with IEEE 802.11n and IEEE 802.11g/b standards for 2.4GHz Wireless LAN
Up to 150Mbps data rate for Wi-Fi network
Supports 64/128-bt WEP, WPA/WPA2 and WPA-PSK/WPA2-PSK (TKIP/AES) encryption
WPS button allows to build a security connection by one click
Supports infrastructure and Ad-Hoc network modes
Low power consumption
Transmission distance up to 100m indoor and 300m outdoor
Supports Windows XP, Vista, Windows 7 (32/64) , Windows 8 (32/64)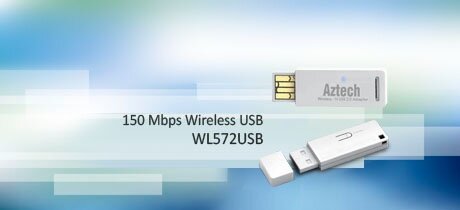 Hardware
Interface:
USB 2.0
Chipset:
MT7601U
Button:
WPS button
LED Indicators:
Status
Dimensions:
49.8mm x 16.8mm x 6.7mm (L x W x H)
Antennas:
1*internal antenna
Environment:

Operating Temperature: 0oC ~ 40oC (32oF ~ 104oF
Storage Temperate: -40oC ~ 70oC (-40oF ~ 158oF)
Operating Humidity: 10oC ~ 90oC non-condensing
StorageHumidity: 5% ~ 95% non-condensing
Wireless
Standards:

IEEE 802.11n
IEEE 802.11g
IEEE 802.11b

RF Frequency:
2.4 ~ 2.4835GHz
Data Rate:

802.11n : up to 150Mbps
802.11g : up to 54Mbps (dynamic)
802.11b : up to 11Mbps (dynamic)

Wireless Security:

64/128-bit WEP
WPA/WPA2
WPA-PSK/WPA2-PSK (TKIP/AES)

Outout Power:
20dBm (Max.)
Channels:

1-11 (North America)
1-13 (General Europe)
1-14 (Japan)

Modulation Type:

DBPSK
DQPSK
CCK
OFDM (BPSK,QPSK,16-QAM/64-QAM)

Reception Sensitivity:

135M: -65dBm@10% PER
108M: -68dBm@10% PER
54M: -68dBm@10% PER
11M: -85dBm@8% PER
6M: -88dBm@10% PER
1M: -90dBm@8% PER
Reviews (0)
view all
back
What's in the box
1 x Aztech WL572USB Wireless-N USB 2.0 Adapter